About Us
The mission of Beloit Health System is to be the leader in regional health and wellness services that delivers high quality, value, and satisfaction to those we are fortunate enough to serve. We do this by assessing community need through a Community Health Needs Assessment. This tool provides an in-depth look at healthcare challenges facing residents of the Beloit area so we can best meet their needs.
Beloit Hospital opened its doors in 1970 in its current location and is proud to say we have expanded since then by providing quality, compassionate healthcare for residents across the state lines of Southern Wisconsin and Northern Illinois. From hospitality to nurses, our staff keeps patient care at the tip-top of our priorities through comprehensive services.
Our Beautiful Campus
Beloit Hospital's campus consists of 25 beautiful tree-filled acres and more than 350,000 square feet of space, rising 5 stories high. The 6th and 7th floors are dedicated to service, mechanical and environmental operations. Architecturally beautiful in 1970, the tradition continued in further expansions such as the Dialysis Center, Stateline Emergency Care Center, Cancer Care Center, and more.
Although we are very proud of our facility and campus, it is really the people who have made the biggest impression. The physicians, staff, and volunteers have been the real reason people continue to place their most precious asset, their health, in our trust.
Beloit Health System's goal is to deliver the highest quality medical services and improve the overall health status of the community. We strive to do this at an economical value and with the highest level of patient satisfaction.
Welcome from Our CEO - Timothy McKevett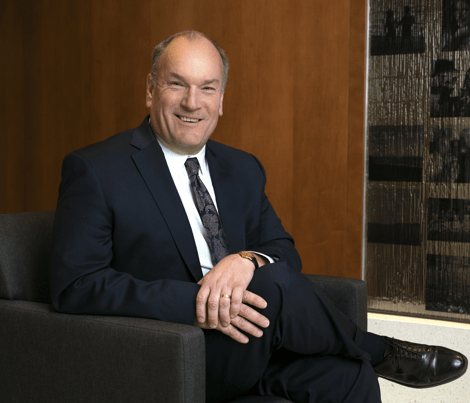 At Beloit Health System, we are committed to providing an environment in which our physicians, nurses, and hospital staff can deliver the highest quality of care to our patients. The strength of our organization evolves from our dedicated employees, our outstanding medical staff, and our devoted volunteers.
We have a history of firsts that we are proud to share - our Advanced Joint Care Center was the first in Wisconsin to receive advanced certification in total hip and total knee replacement from the Joint Commission. We were the first in our state to affiliate with the University of Wisconsin Hospital and Clinics, first in the nation to offer a mobile nurse service for businesses, and first in the nation to implement a barcoding system for patient safety.
We continue to seek new services and programs for the benefit and convenience of our patients and their families. As CEO of Beloit Health System, I am committed to our community's healthcare needs. If I can personally assist you or your family with your healthcare needs, please contact me at 608.363.5766.
2023 Board of Trustees