Your Gifts at Work
The Packard Family Care Center provides the best customized birth experience in the comfort and privacy of a nurturing environment. The Center has four labor, delivery and recovery rooms, a labor triage room, 10 post-partum rooms, a nursery with two emergency resuscitation stations, two pediatric rooms, one outpatient room, a large education room, lactation and infant weight room, and family and quiet waiting rooms. Beloit Health System Obstetricians deliver more than 500 newborns each year. The Packard Family Care Center also provides pediatric care.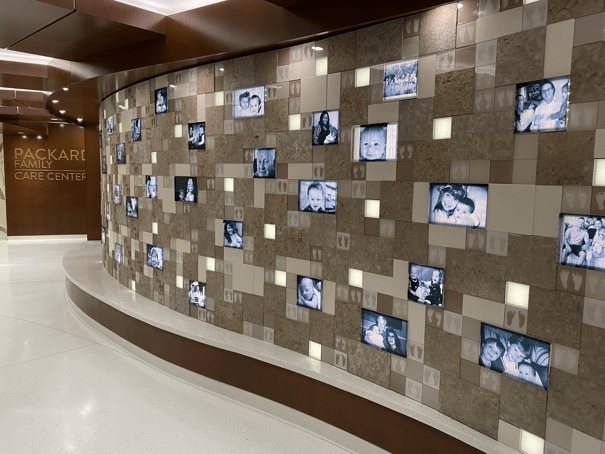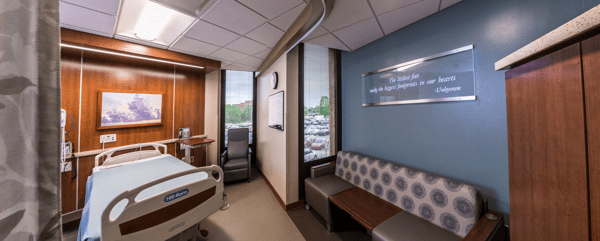 Hendricks Family Heart Hospital
The Hendricks Family has made a big investment in the future of heart care in the stateline area. The Hendricks Family Foundation generously gifted $3 million for a state-of-the art Heart Hospital. The new Hendricks Family Heart Hospital, with a total cost of $13.8 million, is located on the fourth floor of Beloit Hospital.
The new heart hospital features a new hybrid operating suite that is more than double the size of the current operating room. The hybrid OR has the elements of a traditional cath lab with the features of an operating room used for more advanced procedures such as heart bypass surgery, heart valve repair (or replacement) and vascular surgery.
The Beloit Cancer Center treats cancer patients in a whole new way. Their comprehensive cancer services are now under one roof and the cancer team is ready to provide quality care to patients.
The $11.6 million Cancer Center is constructed on a five-acre parcel of land with a convenient location near major highways. The Cancer Center is designed to serve cancer patients in the broad region of Rock and Walworth counties, as well as those in northern Illinois.
Emergency care is so important and Beloit Health System Foundation is very pleased to support the expanded Stateline Emergency Care Center. This state-of-the-art expansion offers 3 times the space of our previous ER with a total of 27 treatment rooms including six Fast Track rooms for lesser emergencies. The beautiful $11.5 million expansion was completed in three phases providing access to ER services throughout the 22-month process. More than ever, your emergency needs from high trauma through smaller health concerns can be immediately cared for in Beloit Health System's Emergency Care Center.
On January 4, 2016 Beloit Health System and Beloit Regional Hospice (BRH) announced the finalization of a merger partnership that will further advance compassionate, high-quality care for those with life-limiting illness in the state-line area.
The merger solidifies a long-standing partnership between the two organizations who have worked together for many years to provide a continuum of care for the community. Beloit Regional Hospice actually started way back in 1982 as a group of volunteer medical professionals meeting in an office out of Beloit Memorial Hospital, so in a way this merger brings the organization full circle.
Beloit Regional Hospice continues to maintain its name, operational staff, fundraising events, and many dedicated volunteers. Former Beloit Regional Hospice Board President Gene Van Galder and former Board Member Lanny Schimmel join the Beloit Health System Foundation and oversee the endowment fund that will remain designated strictly for Hospice use.
Hospice services are available to any person whose illness has advanced to a point where he or she is no longer seeking life-prolonging care, but rather is seeking comfort and quality of life. Each day, Beloit Regional Hospice care for an average of 65 hospice patients and 50 transitions clients.