Dining
Dining Options
Where to Dine in the Beloit Health System Hospital
Beloit Health System's hospital has a variety of dining options for you and your family. The West Hart Café is open 12 hours a day from 6:30 a.m. to 6:30 p.m. with delicious options, plus a light, bright windowed view of Beloit/surrounding area from the third floor. During nice weather, we also offer our patients, employees, and visitors the option of sitting or dining in the Rooftop Garden with flowering bushes and plants surrounding you. See our dining options and hours of service following.
West Hart Café
The West Hart Café is on the third floor of the hospital and offers easy and quick cafeteria-style dining. You can select from "Grab and Go" items such as sandwiches, salads, fresh fruit, snacks or a hot food buffet that changes daily. Hot foods include delicious soups, lunch or dinner specials, hot sandwiches and more. You can also find an assortment of coffees, lattes, cappuccinos and teas.
VIP Café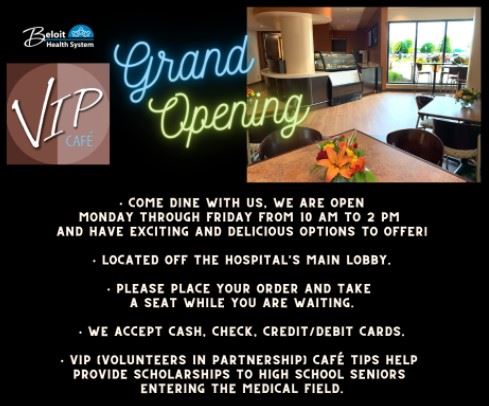 VIP Grille
A cozy coffee shop with home-style cooking located off the main lobby of the first floor. Great menu items to chose from featuring daily soup, sandwich, and pie specials.
The VIP Grille is relocated to the third floor of the hospital and features grilled sandwiches. Order ahead online and pick up your order to go.
New Hours and Specials: 8 a.m. to 2:30 p.m. featuring breakfast "VIP Slams" served all the time Monday through Friday. All menu items are available for take out.
Vending Area
The Vending Area is available all day, every day and is located on the third floor just before you enter the West Hart Café.
Dining Hours
Open Hours: 6:30 a.m.- 6:30 p.m.
Hot food is available during the following times:
Breakfast: 6:30 a.m. - 9:45 a.m.
Lunch: 11:00 a.m. - 1:30 p.m.
Dinner: 4:00 p.m. - 6:30 p.m.