Packard Family Care Center
Our Packard Family Care Center Focuses on Healthy, Safe Newborns
The Packard Family Care Center at Beloit Health System offers many services to welcome your newborn into the world. We are proud to offer services such as labor and delivery, a level-II nursery, mother/baby care in our postpartum area, and pediatrics. The Birth Center is staffed with professional obstetric and Pediatric nurses who combine technology with the professional care that is so important for women and children. Certified instructors offer a broad range of birth education classes, and a certified lactation consultant provides assistance to mothers to help ensure a successful breastfeeding experience.
Packard Family Care Center Hallway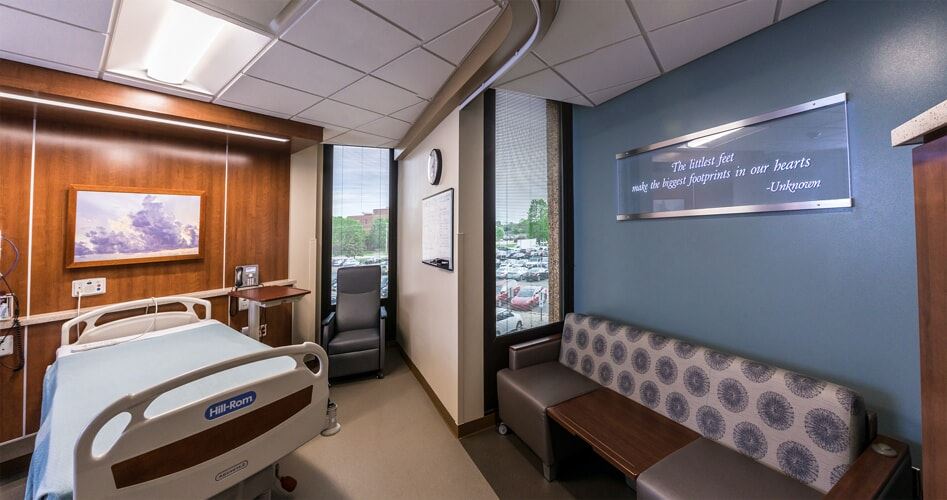 Packard Family Birthing Suite
Nursery Room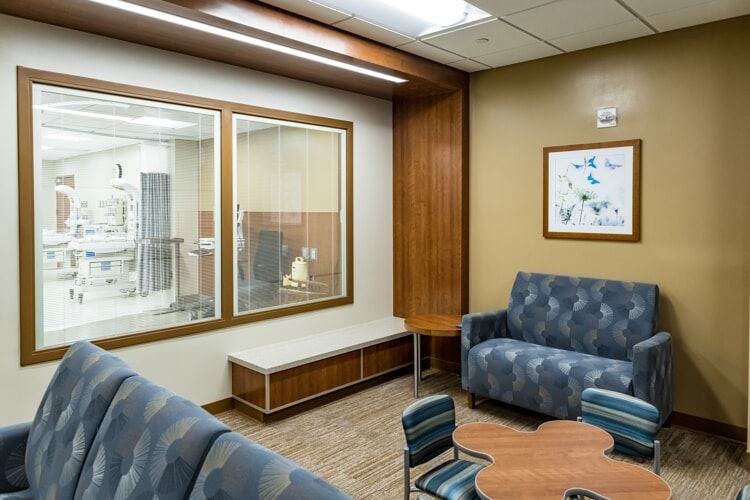 Waiting Room by Nursery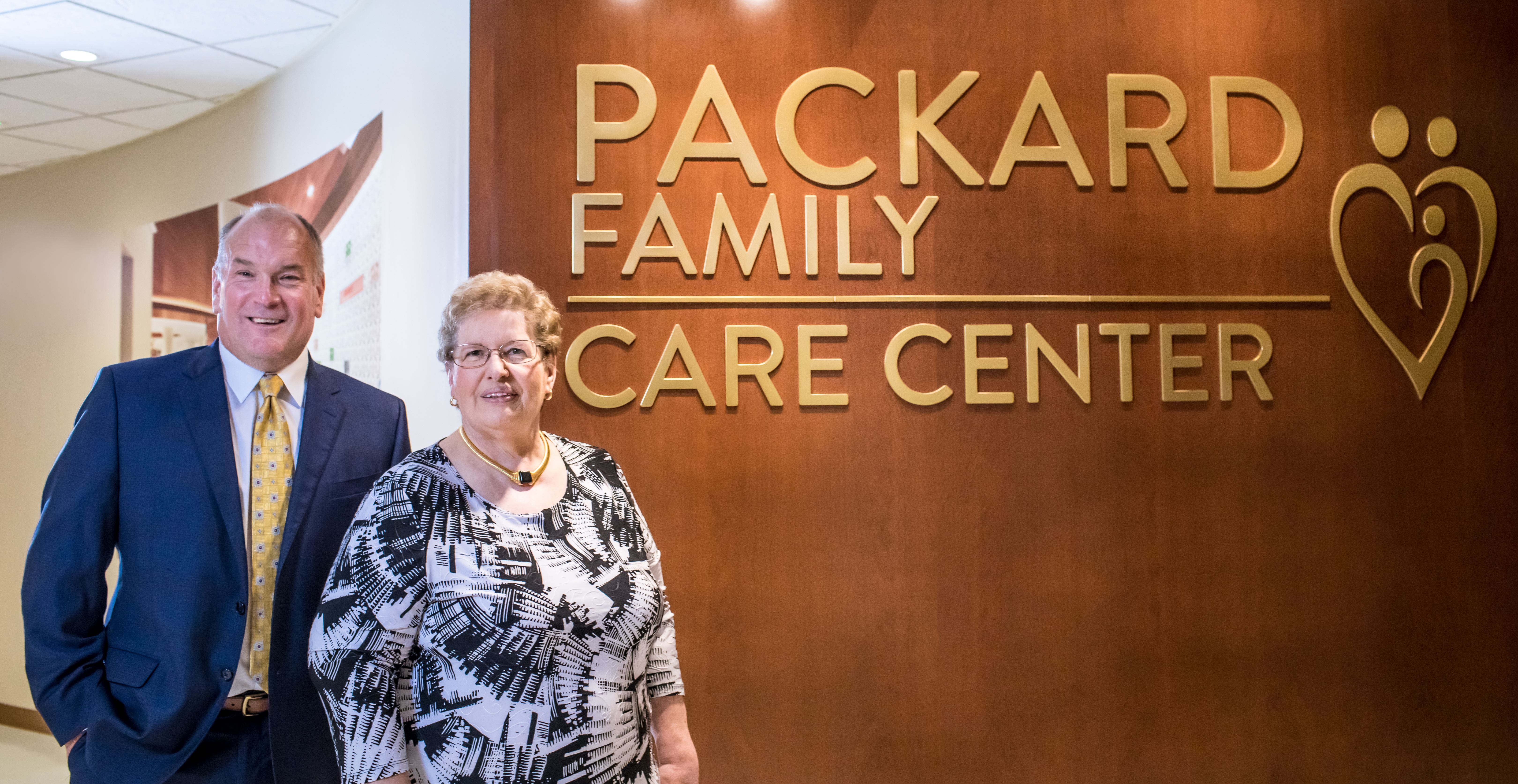 Our Birth Center Staff
Beloit Health System's Packard Family Care staff is skilled and trained to provide expert testing in important areas of infant health. Every registered nurse is trained in neonatal resuscitation and has practiced drills and passed skills tests for rare, but potential, situations such as labor and delivery emergencies.
How We Ensure the Health and Safety of Your Newborn
We offer:
Respiratory Care - The Packard Family Care Center offers CPAP (Continuous Positive Airway Pressure) to assist newborns who need respiration assistance. This allows the Packard Family Care Center to stabilize and to keep more newborns in the nursery and close to their parents.
Hearing Screening - Every newborn has a hearing screening. According to the American Academy of Pediatrics, hearing loss is one of most frequently occurring birth defects. Approximately three out of 1000 infants are born with moderate, profound, or severe hearing loss. If hearing loss is not detected and treated early, it can impede speech, language, and cognitive development.
Heart Health - Every newborn also has a congenital heart disease (CHD) pulse oximetry test. This is a simple, non-invasive test. If abnormal results are found, an Echo may be performed and a referral made to our UW Pediatric Cardiologist. This is an important test to be sure babies go home healthy without unrecognized critical heart defects.
Baby Warmers - The Packard Family Care Center has GE Warmers used for all deliveries, including C-section infants in the operating room. The Warmers have all the equipment necessary for a complete infant resuscitation if necessary.
Alarm System - For additional safety for newborns, the Packard Family Care Center has a sophisticated infant alarm system with staff who routinely practice potential infant abduction drills.
For more information about services in Beloit Health System's Packard Family Care Center, please call 608.364.5230.
Packard Family Donor Wall
One exciting feature of the Packard Family Care Center is the Donor Feature Wall. This one-of-a-kind piece of art holds many stories and timeless moments.
Design features include:
100 History Tile - through 1970-2020, showcasing the first 50 years for Beloit Health System
43 meltdown glass panels reflect photographs of donors, doctors and BHS patients
42 LED lights that are cream colored by default. When a baby girl is born, the lights will turn pink for 10 minutes. When a baby boy is born, they will turn blue for 10 minutes.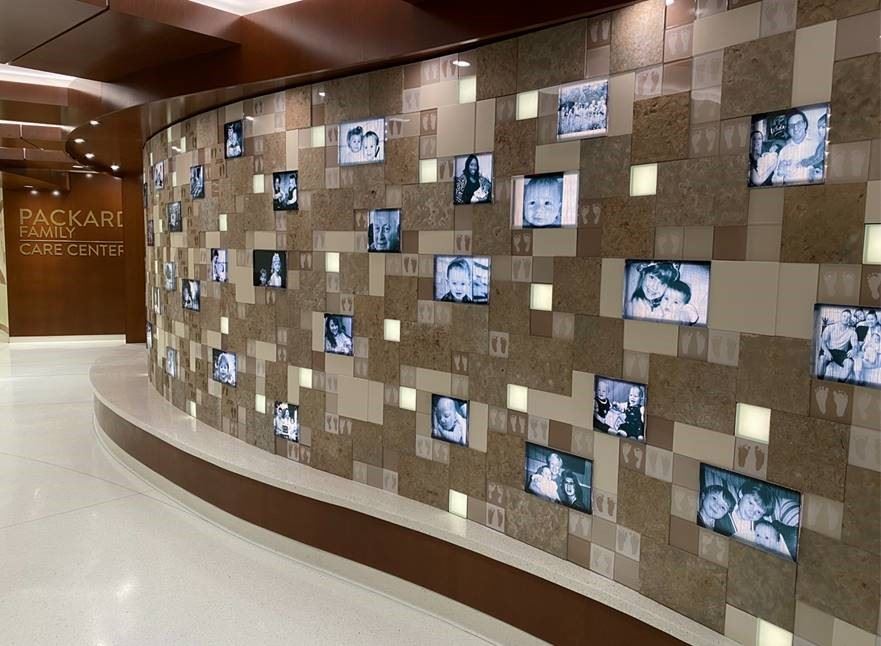 Committed to our Community and Focused on our Patients.

Join Our Team