Roger Kapoor, M.D., M.B.A., F.A.A.D., Senior VP, Awarded Wisconsin Medical Society's 2022 Young Physician Leader of the Year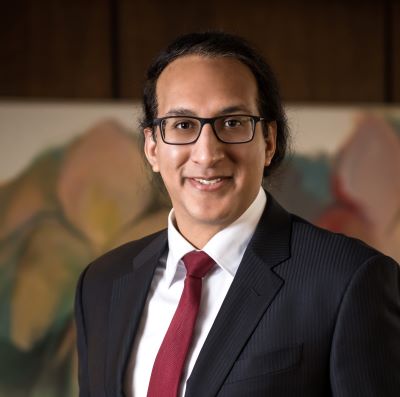 Beloit Health System (BHS) is pleased to congratulate Roger Kapoor, M.D., M.B.A., F.A.A.D., Senior Vice President, who has been named the 2022 recipient of Wisconsin Medical Society's prestigious Kenneth M. Viste Young Physician Leader of the Year Award.
"We are honored to have a member of our team earn this significant recognition and could not be more proud of Dr. Kapoor's continuing contributions, applaudable accomplishments, and his unrelenting commitment to excellence," said BHS President/CEO, Tim McKevett. "He is well deserving of this award."
Dr. Kapoor is a board-certified Dermatologist who completed his medical training at Stanford University in California and his Dermatology training at Harvard Medical School in Massachusetts. He also holds a Master's in Business Administration (MBA) from Oxford University, England. Dr. Kapoor lives in Beloit with his family.
Dr. Kapoor expressed his sincere gratitude to the Wisconsin Medical Society and added that, "Dr. Viste's indelible impact on healthcare and the medical field remains inspiring and it is a great honor to receive this award." He continued, "I stand on the shoulders of a great team at Beloit Health System to whom I am profoundly indebted for their friendship, partnership and support."
The Kenneth M. Viste, Jr., MD, Young Physician Leadership Award was established in 2006 to recognize a young physician each year who demonstrates commitment to patients, community and the profession of medicine. Nominees must be nominated by a peer and must be a member of the Wisconsin Medical Society. In addition to an engraved award presented at the Wisconsin Medical Society's Annual Meeting, the Foundation will make a contribution to a charitable organization, selected by Dr. Kapoor, in his honor. Dr. Kapoor has chosen to make this contribution to the Beloit Health System foundation.
About the Wisconsin Medical Society Foundation
The Wisconsin Medical Society Foundation is dedicated to improving the health of the people of Wisconsin by supporting medical education and public health initiatives. This work is made possible through donations from physicians and other friends of medicine.

The Wisconsin Medical Society created the Foundation in 1955 as a distinct entity with its own governance in order to separate its traditional advocacy role from the Foundation's charitable role. As the 501(c)(3) public, nonprofit affiliated with the Wisconsin Medical Society, the Foundation's programs complement the mission of the Society and our shared priorities.