BHS Celebrates Beloit Resident in Successful COVID Release
Category: News
Posted On: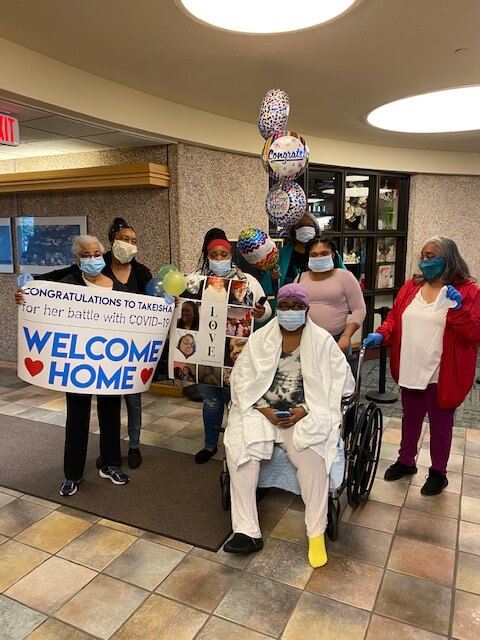 ​BELOIT, WI. — It was an emotional family reunion today at Beloit Health System (BHS) as a recovered COVID-19 patient was released after a 28-day stay and greeted by her family and applauded by BHS healthcare heroes.
Takeisha Walker, 42, is a local resident and has lived in Beloit her entire life. She is a mother of two teenage daughters, ages 17 and 14 years old, and is very close to her sister, her Aunt, and her mother.
"I am humbled by the courage and compassion of our team members they are truly Health Care Heroes," commented Tim McKevett, President and CEO.
It is important to make sure the information you are getting about COVID-19 is coming directly from reliable sources such as the CDC and BHS. For more information, please visit the CDC's website at www.cdc.gov/coronavirus and the BHS website at www.beloithealthsystem.org, which will also include future positive COVID-19 test results in the surrounding area, county, and state.
For questions and concerns, please call our designated Covid-19 hotline at 800-303-5770.
For the most current updates and changes to location hours, please visit us online at beloithealthsystem.org
Click HERE to see Ms. Walker's release and emotional family reunion.
About Beloit Health System
Beloit Health System is an independent community health system serving northern Illinois and southern Wisconsin. We offer world-class facilities and services to improve the overall health of the communities we serve with cornerstones for quality, engagement, integrity, and patient satisfaction.
If you would like more information about this release, please contact Megan Goggin, Manager of Marketing and Community Relations at Beloit Health System at 608.363.5714 or email mgoggin@beloithealthsystem.org