Event Details
Safety Day at BHS
Categories:

Community Event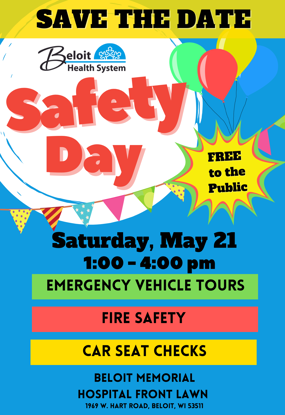 About This Event
Details:
FAMILY SAFETY EVENT!
Beloit Health Systems is hosting a Community fun Safety Day at Beloit Memorial Hospital. The event will take place on the Hospital's front lawn on Saturday, May 21, from 1-4 p.m.
This fun family event is sure to bring a smile to your children's face and they will leave feeling prepared, whether it's in an emergency situation, like a house fire, or just part of their daily route, riding their bike to school or washing their hands.
We have partnered together with local community groups and agencies to put on this event. There will be emergency vehicles that kids will be able to tour, fun learning activities, and new parents can come and get their car seat checked to make sure they are properly installed.
THIS EVENT IS FREE TO THE PUBLIC.
Keep checking back for more details as the event continues to grow.